South Carolina coach Steve Spurrier doesn't feel any pressure to make changes on his defensive staff, but that doesn't mean he won't at some point this offseason.
The Gamecocks finished 12th in the SEC in scoring defense this season and 13th in total defense. They gave up more than 30 points in seven of their 12 regular-season games and lost three games in which they blew two-touchdown leads in the fourth quarter.
Fans on radio-talk shows and Internet message boards have been clamoring for Spurrier to make wholesale changes to his defensive staff, but he's yet to make any moves.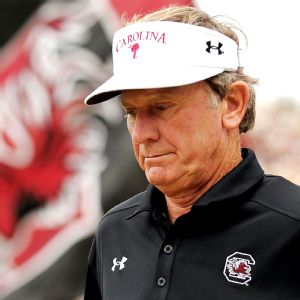 Stacy Revere/Getty ImagesSteve Spurrier sees hope on the horizon for South Carolina's defense, regardless of any coaching staff changes.
"If I need to add a guy or two to the staff, I'll do it," Spurrier told ESPN.com on Friday. "There's still plenty of time to do that. Our coaches all know that. Our fans know that. When the time appears to be right and I think we can bring a coach in here that will really help us, then I need to do that. That's my job.
"We'll see what happens, but that's where we are right now. There is a possibility that we'll add a guy down the road here soon. If not, we'll go with what we've got."
Lorenzo Ward just finished his third season as South Carolina's defensive coordinator. He's been on the Gamecocks' staff for six seasons and previously worked under Ellis Johnson before taking the defensive reins in 2012, when Johnson left. In Ward's first two seasons coordinating the defense, South Carolina finished in the top 25 nationally both years in total defense, but the bottom fell out this season. The Gamecocks struggled to rush the passer and were not a particularly good tackling team.
"We think we've got help on the way, some guys coming in who can get to the quarterback," said Spurrier, noting that the Gamecocks had just 14 sacks in 13 games. "We've got to coach better and put guys in position to play better, tackle better, get lined up, knock a few balls down, get some sacks. I know we were at the bottom of the SEC, maybe the bottom of the nation in sacks.
"It's hard to tackle the quarterback behind the line of scrimmage only 14 times in 13 games, but that's what we did."