GAINESVILLE, Fla. — Before he was tasked with restoring one of America's top programs to its championship past, Jim McElwain toiled for 15 years in the FCS (formerly Division I-AA), first at his alma mater, Eastern Washington, and then at Montana State.
Along the way, he sold popcorn at sporting events, painted the field and even tended a little bar at Showies in Cheney, Washington, while trying to make it on just north of $4,000 per year when he first started out as the quarterbacks and receivers coach at Eastern Washington in 1987.
"You always wondered if you were ever going to get an opportunity, and at the same time, I was never looking because it was a great place," recalled McElwain, who's just plain "Mac" or "Coach Mac" to his peers, players and all of his pals back in his hometown of Missoula, Montana.
"I've always gotten that from Dad (Frank, a coach and principal) and Mom (Marjorie, an English teacher). Whatever job you've got, you do it with all your might. If somebody takes notice, they take notice."
McElwain has crisscrossed the country coaching football, with his wife, Karen, and children JoHanna, Elizabeth and Jerret faithfully in tow.
And now that he's landed at Florida, with the big SEC salary and all the pressure that goes with it, the only thing that's really changed about the 53-year-old McElwain is the number of people who recognize him in public.
That and his bank account is a bit larger than it was back in his Eastern Washington days, when he slept five to a room while on the road recruiting with his fellow assistants.
Otherwise, it's the same old "Mac," who's the antithesis of the coach who was born on third base, or for that matter, even the on-deck circle. He's seen it all and done it all, at every level, which is why he might be the perfect choice to revive a Florida football program that hasn't been the same since Urban Meyer was rushed to the hospital with chest pains the day after the 2009 SEC championship game loss to Alabama.
One of Jim McElwain's first big decisions will be between quarterbacks Treon Harris and Will Grier. Rob Foldy/Getty Images
"One of the first things he told us was to trust him," Florida junior safety Keanu Neal said. "With a new coaching staff, it's hard to go from trusting this coaching staff and then trusting a whole new one right when it comes in. That was his message, though, and it happened fairly quickly because I think we all saw that he genuinely cares about us. We bought into what he wanted and bought into his message and philosophy, and here we are.
"We're going to get Florida back to where it's supposed to be together."
Deion Branch, the Super Bowl XXXIX MVP as a member of the New England Patriots, always knew McElwain was going places, and for all of the right reasons. McElwain was Branch's receivers coach for two seasons at Louisville in 2000 and 2001. The two have remained close. In fact, the morning of Branch's first Super Bowl with the Patriots (Super Bowl XXXIII), he made it a point to reach out to those he felt had most profoundly impacted his life.
McElwain was on that list.
"It's the biggest game of your life and one of the biggest days of your life, and you want the people who had the most influence on your life to know what they mean to you," said Branch, who's now retired after playing 12 seasons in the NFL.
"Coach Mac looked deeper than X's and O's. He was as bright and intelligent as they come and had a way of making sure everybody knew exactly what he wanted, just the way he communicated and related to guys. But more than that, I'd sit back in the meeting room and think, 'He's one of the most genuine coaches I've ever known,' and there aren't a lot of coaches who have that combination."
McElwain's college roommate, Tim Bradbury, added: "He appreciates where he's been and the people around him because it helped make him who he is today. His players respect him because he's earned everything he's gotten."
McElwain's ability to relate to his players (and, really, relate to just about anybody) is a big part of who he is, going back to his teenage years when he spent his summers at Flathead Lake in the northwest corner of Montana working in a cherry warehouse.
"I started on the pallet crew and got elevated all the way to head bin-dumper by the time I was done," McElwain joked.
He's taken his family to that same lake, not too far from where his father paid $5 for the original plot of land in 1965, every summer regardless of whether he was coaching in Fresno, California, East Lansing, Michigan or Tuscaloosa, Alabama.
At nights, McElwain and his son, Jerret, would lie on the banks of Flathead Lake and gaze at the stars.
"There's not a lot of light pollution around, and you look up at night and it's unbelievable," McElwain said. "We'd count 11 stars and try and figure out if it was a legal formation and then say, 'You know what? There might be something we could do with that.'
"A lot of offensive coordinators, and I've been one, are consumed with stats. As the winning gets big, their ego gets bigger. Mac was always about 'us' and 'we' and the 'program.'"

Former Alabama assistant Joe Pendry
"Every year, I'd come back with something new from the stars."
While serving as the offensive coordinator at Alabama from 2008-11, McElwain ran more of a pro-style set (tutoring first-year starting quarterbacks Greg McElroy and AJ McCarron) because that was what Nick Saban wanted. But in his most recent role the last three seasons at Colorado State, McElwain's offenses ran more spread, something he also did during his season as offensive coordinator at Fresno State in 2007.
Everywhere McElwain goes, improved offenses follow. In his one season as Fresno State's offensive coordinator, the Bulldogs averaged 32.9 points per game after scoring 23 per contest in 2006. In 2008, the Tide improved to 35th nationally in scoring offense after finishing 64th in 2007. In his four years in Tuscaloosa, the Tide had only 57 turnovers, the lowest in the country in that span. And after finishing 100th nationally in scoring offense during his first year at Colorado State, the Rams improved to 22nd the next season.
"Mac's a good coach and a good teacher, and as an offensive coach, does enough different things and has enough shifts and formations to really make you burn some chalk on defense to adjust to all the stuff he does," Saban said. "He knows how to use extra blockers to outflank you and understands the passing game. He's got a great personality, but is very intense, too. He's sound in everything he does, and that shows in the way his teams play."
That would be welcome news for the Gators, who've been in an offensive deep freeze for the past five seasons. They've been held to 21 or fewer points in 21 of their last 40 SEC games, dating back to Meyer's last season in 2010.
"You'd stand on the sidelines and hear fans talking about how boring we were and that we'd run the same plays over and over," Florida receiver Brandon Powell said. "We've just got to find an identity on offense. We never really had one, but you see in the spring what that identity is going to be under coach Mac, spreading the ball around, getting the ball to playmakers and keeping defenses off-balance."
Joe Pendry was Alabama's offensive line coach during McElwain's first three seasons in Tuscaloosa.
"He's just so sound fundamentally," Pendry said. "He was sound in the running game and sound in the passing game, and when he talked about it, you saw it in how his teams play and saw it on video. It wasn't just clinic talk.
He might be known as an offensive coach, but Jim McElwain will rely on star cornerback Vernon Hargreaves III in 2015. Kim Klement/USA TODAY Sports
"A lot of offensive coordinators, and I've been one, are consumed with stats. As the winning gets big, their ego gets bigger. Mac was always about 'us' and 'we' and the 'program.' The only individual he was concerned about was helping each individual on the team get better."
That selflessness transcends football, too, as ESPN's Colin Cowherd can attest. Cowherd lived down the hall from McElwain in college at Eastern Washington and was a few years younger. They would gather in McElwain's apartment on Sundays to watch NFL games.
"Mac would be analyzing plays or predicting what plays teams were going to run next, and I would be doing my impersonations of Vin Scully and Keith Jackson," Cowherd said. "I think we entertained each other."
McElwain had a job in college where he would pick up tapes at a non-commercial airport and drop them off to television and radio stations in the Spokane area. He was paid $80 a week to make his daily deliveries, which was big money for a college student in those days.
When McElwain graduated, he pulled Cowherd aside and asked him if he wanted the job.
"That tells you everything you need to know about Jim McElwain," Cowherd said. "He could have given that job to anybody, but thought of me because he knew I was going into TV and radio and said, 'Hey, you might be able to get your foot in the door with some of these stations.'
"He had all these friends. He might have been the most liked guy on campus, and of all the people he could have given that job to, he gave it to me because he thought it might help my career."
LSU defensive coordinator Kevin Steele, who coached with McElwain at Alabama, said McElwain's competitive side never got in the way of his genuine side.
"He's a coach's coach," Steele said. "There's a tough side to him, an innovative side and a side that gives everybody around him confidence. And, yet, coaching football isn't who he is. It's what he does for a living."
Anything but a self-promoter, McElwain's not above setting the record straight with an old rival in his own good-natured, yet brutally honest way. He and Louisville coach Bobby Petrino grew up about two hours from each other in Montana and faced off in the late 1970's in the state high school basketball tournament.
Petrino, asked about that meeting, is quick to offer up that he scored 32 points in the game.
"He was a helluva player with a quick one-step crossover," McElwain recalled.
But that's not all he recalled.
"He scored a bunch of points against us, but I know who scored them all in overtime … and whose team won the game," McElwain said, flashing his toothy smile.
It's that sense of team that defines McElwain and elicits a carefree shrug when asked about coaching at a pressure-cooker environment like Florida, the restlessness among the fan base overflowing after 13 losses the last two years and no trip to the SEC championship game since Meyer's next-to-last season in 2009.
"That's one of the things I learned most from Nick Saban," McElwain said. "He'd say, 'Look, Mac, all I really want to make sure of is that I work hard and that I'm complete in what I do.' He's right. Whether somebody liked the call or didn't like the call, all I want to know is that I worked as hard as I could to make sure it was right and give our players a chance to be successful."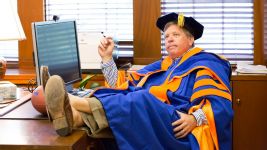 Jim McElwain has found time for fun in his first year at Florida, "switching" jobs with UF's president for April Fools' Day. Twitter/@CoachMcElwain
McElwain isn't making any grandiose promises this first season. There are some serious holes on the roster, particularly on offense. One of his priorities in upgrading the roster is unlocking some of the recruiting doors in South Florida, and the Gators already have made strides in that area.
Similarly, McElwain has pushed to make sure Florida keeps up with the rest of the SEC in the facilities arms race. A new indoor practice facility was already planned before McElwain was hired, but he put his stamp on it, making it larger than originally planned.
The days of Florida winning simply because it's Florida are over, and McElwain hasn't been shy about reminding everybody that the price of winning is steep.
He even quotes British economist John Maynard Keynes.
"The difficulty lies, not in the new ideas, but in escaping from the old ones," McElroy recites.
In other words, nothing stays the same.
"The thing I really admired about what I saw coach Saban do is that he constantly stays current," McElwain said. "As soon as they finish one thing, all for the players, they're on to doing another one or remodeling.
"It's the thought that every day we wake up, we're either getting better or getting worse."
For McElwain, it's the only way he knows, be it dumping bins at the cherry warehouse, coaching FCS ball, calling plays at Alabama for a pair of national championship teams or taking on the challenge of putting the chomp back into Florida football.