The need for starting pitching among contenders is rapidly developing after injuries to Adam Wainwright, Brandon McCarthy, Masahiro Tanaka and Homer Bailey — and because of the repeated failure of Boston's rotation, with an average ERA of 6.03. The last hours of April haven't even played out, and front offices are rewriting the plans for their starting staffs.
But the solutions may not be nearly as dramatic as some fans think. The seller's market for a team like Philadelphia — dangling Cole Hamels — may never fully blossom in a way the Phillies might hope for, for a couple of reasons:
1. Because offense is generally down and pitching has become a dominant force, executives privately acknowledge that good mound work is easier to find than five or 10 years ago. The best recent example might be the 2014 Yankees, who lost four-fifths of their rotation to injury, plugged holes with unproven pitchers like Shane Greene, Chase Whitley, et al and still generated a solid 3.77 starters' ERA. The Red Sox might blanche at the high asking price for Hamels — they're not going to give up Blake Swihart for him — and prefer to try internal options like Brian Johnson and Eduardo Rodriguez, who have started well with respective ERAs below 2.00. The Cardinals have Marco Gonzales waiting in the minors (once he gets past his shoulder stiffness), along with other options.
The Dodgers probably have the greatest immediate need for rotation help among teams that have lost starters.
However …
2. A lot of rotation options could emerge. Club officials in both leagues are watching the Milwaukee Brewers, who are off to a terrible start and could take offers for Kyle Lohse and Matt Garza sooner rather than later. Aaron Harang of the Phillies could generate moderate offers, and rival executives believe veteran left-hander Scott Kazmir could be an interesting option if Oakland doesn't contend. Other teams are monitoring the work of the Reds' Mike Leake, who is a free agent in the fall. The Nationals could use their surplus of starting pitching to plug a hole, perhaps making someone like Doug Fister available.
Another thing the Phillies have to remember about the market for Hamels: There are 93 days until the July 31 trade deadline — plenty of time to assess the best possible offers for him. But the instant the trade deadline passes — one second past 4 p.m. ET on July 31 — Hamels' value in the market will take an enormous hit weighed against the enormous class of free agents available in the fall — David Price, Johnny Cueto, Jordan Zimmermann, et al.
Yankees starter asahiro Tanaka was placed this week on the DL for wrist tendinitis and soreness in his forearm. Kim Klement/USA TODAY Sports
Around the league
• On Tuesday's podcast, Jayson Stark ran through some of the Phillies' options and considerations; Evan Grant discussed the Rangers' acquisition of Josh Hamilton. Here's Tuesday's video blog.
• As bad as Clay Buchholz was, don't expect changes anytime soon, writes Nick Cafardo. Clay Buchholz is out of focus, writes Michael Silverman. The starter sets the tone, says John Farrell.
• Boston is still the best fit for Cole Hamels, writes David Murphy.
• Homer Bailey won't be back for the Reds anytime soon, writes Hal McCoy.
• Tanaka's future appears gloomy, writes John Harper. He needs Tommy John surgery, writes Kevin Kernan.
Yankees general manager Brian Cashman said Tuesday evening that Tanaka would pitch if today's game was a playoff. The team doesn't regard this is a major injury; rather, it's "more like an infielder with a minor groin strain," Cashman said. Now it's a question of time, with Tanaka needing seven to 10 days of rest and, if all goes as expected, a period of time to ramp back up for a return to the big leagues.
As Stephania Bell reported and David Cone reiterated on the Yankees' broadcast: There is no sure thing about Tommy John surgery. The success rate is not 100 percent, nor close to 100 percent. And Tanaka had been throwing well, with two walks, 14 strikeouts and one run in 13 1/3 innings, before arriving at Yankee Stadium and reporting discomfort with his wrist. He has a 3.22 ERA so far this season, with his velocity down slightly; I'm not sure why there's a push for an elbow reconstruction given that he's shown he can pitch well without it.
A more appropriate intermediate step is for the Yankees to determine whether to give Tanaka at least five days between five starts, rather than four, given that his wrist discomfort popped up after he made a start last week on four days' rest.
Tanaka has demonstrated that he can pitch well in spite of the partial tear in his elbow ligament. Why would he or the Yankees sacrifice that for the rest of 2015 and into 2016 given that there's no guarantee of what he'll be after he gets the procedure done?
If Tanaka comes back in late May or June and is terrible, if he's not functional, then the context changes and surgery could be more appropriate.
• The Orioles' re-scheduling is unprecedented. They will start today at 2:05 p.m., as Roch Kubatko writes.
• White Sox general manager Rick Hahn discussed games being rescheduled because of the civil unrest in Baltimore. The White Sox and Orioles are preparing to play in an empty ballpark.
• The church of Mark Teixeira's uncle is being protected by National Guardsmen.
• The first-place Astros suffered a tough injury, with Jed Lowrie facing surgery on his thumb, as Evan Drellich writes. But Houston pounded the Padres.
• The Astros are keeping Carlos Correa in Class AA.
• Another round of Clayton Kershaw versus Madison Bumgarner was won by the Giants, with help from Buster Posey:
Fifty-five percent of Bumgarner's pitches were in the lower half of the strike zone or lower, his first start of the season over 50 percent, according to ESPN Stats and Info. He got 16 of his 24 outs in at-bats ending with those pitches, including seven of his nine strikeouts, and allowed just two base runners in those at-bats.
Bumgarner got nine swings-and-misses with his slider; his previous high in a start this year was four. Eighty-three percent of his sliders were in the lower half of the zone or below, compared with 68 percent over his first four starts of the year.
Clayton Kershaw fell behind 1-0 to 11 of 27 hitters (41 percent), his highest percentage of the season and fifth-highest percentage in the last two seasons. Those 11 hitters Tuesday had four of the seven hits Kershaw allowed.
Run support was a big part of that. The Dodgers have scored two or fewer runs in each of Kershaw's last four starts against Bumgarner — all LA losses.
• The sound of Archie Bradley getting hit in the face was sickening; his response, as he walked off, was heartening. He was in good spirits afterward, as Steve Gilbert writes.
From his story:
"I tried to throw a curveball in there for a strike," Bradley said. "I saw the pitch going toward the plate and then I woke up, and I was laying down, and I was like, 'Oh, crap, what just happened?' I got myself together, opened my eyes, and I could see, wiggle my feet, and then the next thing I know the trainer was there, and they walked me through it from there."
[More…]
"For me, as a hitter, it was a nightmare," said a visibly shaken Gonzalez afterward. "It's something you don't try to do, especially to a guy like him, who is really young and is starting his career. It's devastating. It just ruined my night. It just ruined everybody's night."
The first thing Bradley did when he got to the clubhouse was call his mom and tell her he was OK and that he was going to the hospital. Once there he FaceTimed with her to reassure her even further, and he said, "It put a smile on her face."
Preliminary tests did not show a concussion, and Bradley was taken to St. Joseph's Hospital for a CT scan.
"There were some small changes in the sinus cavity," D-backs head athletic trainer Ken Crenshaw said. "We did another follow up with our facial specialist Dr. [Jeffrey] Edelstein. He thought it was really favorable from what he saw on the CT scan. He kind of wants to wait until tomorrow — inflammation goes down — and get a little better look at it, and we'll follow up with our ear, nose and throat specialist as well."
• The Diamondbacks went on to win this game.
• There have been a lot of homers hit by a lot of players this year, but none could have felt better than Dan Uggla's comeback-capping shot against his former team. The comeback for the Nationals was enormous, as Chelsea Janes writes.
• Chocolate sauce has replaced the pie-in-the-face … although Uggla looks like he might've preferred the latter.
• The Braves surrendered a 9-1 lead.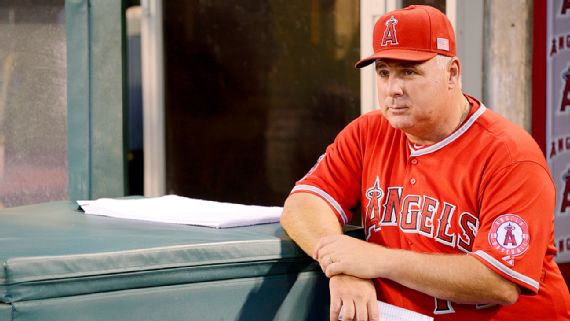 Angels manager Mike Scioscia was critical of former player Josh Hamilton, now in Texas. Matt Brown/Angels Baseball LP/Getty Images
• Mike Scioscia criticized Josh Hamilton for a lack of accountability, as Jeff Fletcher writes.
From the story:
"Just hearing some of his comments, the one thing that I think is sad and I'm a little bit disappointed in is the fact that there wasn't any accountability, most importantly to his teammates," Scioscia said.
"If you look at how much support he got in that clubhouse, when he was struggling, whatever was happening, no one ever questioned Josh's work ethic and him wanting to play well. He played hard, nobody ever questioned that. I know he got a lot of support from the guys that are in that clubhouse. For him not to show at least a little remorse towards his teammates I just think is wrong."
[More…]
"His support was totally dictated by Josh and his management team," Scioscia said. "They dictated what his support should be, and I think we went above and beyond to make sure he had all the resources that he needed."
[More…]
Elsewhere in the Angels clubhouse, players simply wished Hamilton well and expressed satisfaction that the saga seemed to be over, although they all insisted that it was never a distraction to them.
"There are a lot of people in your life you care about that aren't in this clubhouse, and any one of those people can provide a distraction," Huston Street said. "When you think about it from that perspective, we all have families and kids. We all cared about what happened to Josh, but it was also separate. You handle that on your own time. You come in here to be a professional and play baseball."
Scioscia is famous for protecting his players with his comments, for being very glass-half-full in his public discourse, which make his remarks seem strange. You wonder if he felt some pressure, as the most heard voice of the franchise, to defend the organization in the face of the waves of criticism it has taken for the handling of this.
• The Cubs beat the Pirates again and are building playoff confidence. A new vibe is pushing the Cubs.
• The first two games of the Mets-Marlins series have been outstanding, with the Marlins answering back late in Tuesday's game. The Marlins are unconcerned about their closer's velocity.
• Rays Manager Kevin Cash admits he made a mistake.
Moves, deals and decisions
1. Domonic Brown was sent to the minors.
2. The Twins want to solidify their rotation.
3. Jackie Bradley Jr. is back.
4. Fredi Gonzalez has been changing his lineup daily, as David O'Brien writes.
5. Alex Rodriguez got a day off.
6. Rafael Montero was called up, pitched and was sent down.
7. The Blue Jays will try Brett Cecil as their closer.
Dings and dents
1. Jose Reyes landed on the disabled list.
2. Justin Verlander played catch, lightly.
3. The Rockies placed their closer on the disabled list.
4. Matt Cain took steps toward returning.
5. Coco Crisp is close to coming back.
6. Carl Crawford landed on the DL.
Tuesday's games
1. Jered Weaver lost, with one bad inning.
2. Anibal Sanchez was good, but not good enough against the Twins.
3. The Royals had a big inning.
4. A new-look Cardinals lineup rolled to 11 runs.
5. Johnny Cueto was The Man for the Reds.
6. Jeff Locke was roughed up. The Pirates made some mental errors, as Travis Sawchik writes.
7. The Padres got pounded.
8. The Blue Jays took advantage of Clay Buchholz.
9. Kyle Kendrick had a bad day, writes Nick Groke.
10. J.A. Happ was outstanding.
AL East
• Drew Smyly will be on a pitch count today, but feels good.
• Alex Rodriguez worked with Didi Gregorius.
AL Central
• The start to the Indians' season is slowly reaching a crisis stage. Cleveland is already 7.5 games out of first place.
• The Cleveland relievers say their struggles aren't related to their heavy use in 2014.
AL West
• Seattle's trio of young starters will be a key.
• Josh Hamilton says he's at the beginning of something good.
• Shin-Soo Choo may finish the worst month in Rangers' history.
NL East
• Jonathan Papelbon has been worth the price, writes Marcus Hayes.
• A scout says a Mets prospect won't pitch inside.
NL Central
• Michael Lorenzen's patience has paid off, writes Trent Rosecrans.
• The Brewers mashed a couple of homers, but still lost.
• Logan Schafer continues to produce.
NL West
Lastly
• Kirk Gibson has Parkinson's. He is not the first person in the baseball community to deal with this. Former Rockies and Tigers player Ben Petrick was diagnosed about 15 years ago and he has been coping ever since. Here's an E: 60 piece on Petrick, whose family support has been incredible.
Parkinson's won't defeat Gibby, writes Lynn Henning.
• We've had record-setting downloads for last Friday's podcast, which included a logo and uniform trivia contest courtesy of graphic artist Todd Radom and the Fireball Express.
• Adam Wainwright pleads for the DH to be kept out of the National League, as Rick Hummel writes.
The idea that Wainwright's injury — which could have happened anywhere, including if he was walking up the steps — has become a launching pad for a DH discussion is beyond absurd.
And today will be better than yesterday.