When is it not football season in the SEC?
And with spring practice already up and running at a handful of schools, now seems about as good a time as any to take a stab at some early predictions as we look ahead to the 2015 season.
Let's hope I have more success than the West Division did in bowl games last season.
Here goes:
Missouri will win at least 10 games … again: We've heard all the backhanded reasons about how and why Missouri has won 23 games over the last two seasons (tying Alabama for the most in the SEC). Chief among those reasons is that the East Division has been down. That doesn't change the fact that the Tigers are 14-2 in SEC games with a pair of championship game appearances and bowl wins during that span. Gary Pinkel and his staff are obviously doing a lot of things right, and that's not going to change in 2015. Being able to hold onto ace defensive line coach Craig Kuligowski was huge. The Tigers just keep developing explosive difference-makers up front defensively, and that's where the game is won.
The SEC will crown a new champion: Alabama fans might want to sit down for this, but there won't be a repeat SEC champion. The Crimson Tide will almost certainly be picked to win the title. When are they not? They were the choice four of the last five years at the SEC media days. Of course, the only time the media got it right was last year. Repeating in this league is akin to winning the lottery in back-to-back years. The last time anybody did it was Tennessee in 1997 and 1998. To put how long it's been in perspective, the only current head coach who was a head coach in the league then was Steve Spurrier, and he was at Florida. Gus Malzahn and Hugh Freeze were coaching high school football. So, yes, it's been a while.

[+] Enlarge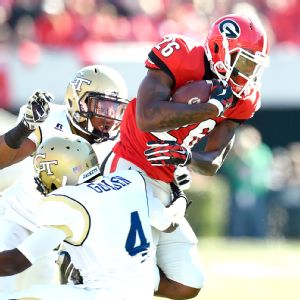 Dale Zanine/USA TODAY SportsMalcolm Mitchell's past two seasons have been marred by injuries.
At least 13 teams will have two or more losses: When it was all said and done a year ago, everybody in the SEC had at least two losses, and 13 of the 14 teams had three or more. That's just where the league is right now. It eats its own. There's not a huge gap between the top two or three teams and the eighth, ninth and 10th teams. That might not be a good thing for the league in the playoff era, but look for more of the same in 2015. When the College Football Playoff selection committee picks its four teams, at least 13 of the 14 teams in the SEC will have two or more losses.
Carl Lawson will lead the conference in sacks: Some of the best news for Auburn is that Lawson is moving around just fine on his surgically repaired knee and will be ready this spring. Former teammate Gabe Wright called Lawson a "physical beast" last spring when it looked like he was poised to step right in for Dee Ford as the Tigers' finisher off the edge. But then came the ACL tear a month later, and Lawson was out for the season. He had four sacks as a freshman in 2013 but could triple that number this season. He will flourish in Will Muschamp's defense.
Malcolm Mitchell returns to prominence: Speaking of players returning from injury, isn't it about time Mitchell had some luck? When healthy, the guy is an absolute blur. The problem is he hasn't been able to stay healthy. Some of it's been freakish. He tore his ACL two years ago in the opener against Clemson while celebrating a Todd Gurley touchdown run. He reinjured his knee prior to last season and missed the Bulldogs' first four games. This is the season it all goes right for Mitchell and he emerges as the top deep threat in the league. Come on, you gotta root for a guy who's in a book club.
Arkansas and Tennessee break out: The Hogs and Vols are both primed for breakout seasons in 2015. Are they ready to make that leap? We should find out on Oct. 3 when they meet in Knoxville in what will be a top-20 matchup. Brace yourselves for more "Woo Pig Sooie" calls and more renditions of "Rocky Top" than should ever be allowed.
Kentucky will go bowling: The Wildcats looked like they were on their way last season after starting out 5-1, but they lost their last six games and stayed home for the postseason. In Year No. 3 under Mark Stoops, Kentucky will get back to a bowl after a four-year hiatus. Even then, the Wildcats will lose more games in September than their basketball team does this entire season. That's good news for Cal's boys, right?
HailState shows staying power: Mississippi State won 10 games in the regular season a year ago for the first time in school history. The Bulldogs lost some key pieces on defense, and the general feeling around the league is that they won't be able to sustain that success. But with Dak Prescott back, they aren't going to just roll over and play dead. They'll find a way to go at least .500 in SEC play for the second straight season. The last time that happened was when Jackie Sherrill was running "bullish" in Starkville with four straight seasons of .500 SEC records or better from 1997-2000.
Nick Saban joins Twitter: Saban will follow Steve Spurrier's lead and take the Twittersphere plunge even though he vowed last season he was too old school to go down that road. I have it on good authority that Saban has at least kicked around the idea, although it's still a real long shot. Boy, if it were to happen, though, what's next? Saban rearranging practice this spring to play golf? OK, let's not get carried away.
Fans will complain about overpaid coaches: Fans of every SEC West team that doesn't win at least 10 games will gripe loudly and lengthily that their coach is overpaid. That sort of comes with the territory when all seven coaches in the division are making $4 million or more per year.