Even though TCU was left out of the inaugural College Football Playoff this season, Gary Patterson isn't one of those people clamoring to see it go from four teams to eight teams.
Nope, he'd like to see it go to six teams.
In doing so, Patterson said the top two teams would get byes, and if the other leagues agreed to do away with their conference championship games, the current playoff schedule could stay intact, and there would be a representative from all Power 5 conferences, along with a true at-large team.
"To me, it makes no sense to have four playoff spots and then have five conferences," Patterson told ESPN.com. "This way gives everybody a chance to have their champion or their best team be a part of the playoff, and a sixth team that could be from any conference, and then you get down to that final four pretty quickly and still not change the way we do things.

[+] Enlarge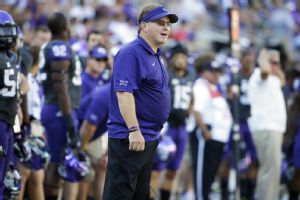 AP Photo/Tony GutierrezIn his model for an expanded College Football Playoff, Gary Patterson said he wants the Power 5 leagues to do away with conference title games.
"I don't want the bowl games to go away. I think that would be a loss to college football if we ever allowed that to happen. But doing it this way might make everybody happier."
Patterson said he plans to pitch his idea this spring at the Big 12 meetings and hopefully get some conversation going about it nationally.
One of the trickiest parts of his plan would be other conferences agreeing to eliminate their championship games. The Big 12 currently doesn't play a conference championship game, while the other four Power 5 conferences are split into divisions and play championship games.
Patterson's rationale is the SEC is the only conference for which the championship game has been a big hit. By freeing up that first weekend in December to play the first two games in a six-team playoff, there wouldn't be any reason to lengthen the season, which has been one of the chief concerns about expanding the field.
Under Patterson's plan, the No. 3 seed would play the No. 6 seed and the No. 4 seed would play the No. 5 seed the first weekend in December. The winners would advance to play the top two seeds on New Year's Day in the semifinals, and the championship game would be 10 days later.
"I think you would probably make more money on the playoff games in December than you would with the conference championship games," Patterson said. "Other than the SEC, there were a lot of empty seats that I saw at those conference championship games. The teams playing on New Year's would have basically the same amount of time to get ready, and you wouldn't take away from everybody's recruiting or interfere with final exams."
Just like the Horned Frogs felt spurned this year, Patterson understands somebody is going to be disappointed, no matter how many teams are in the playoff.
"We could go to eight, and there will be a ninth that thinks they should be in," Patterson said. "There are always going to be one or two more teams who think they should be in."
As for the likelihood of other conferences with split divisions doing away with their championship games, Patterson said it shouldn't matter because the teams in those leagues don't all play each other anyway.
"To me, when we went to this whole committee thing, it was to find the four best teams and not wait and see how they did in their championship games," Patterson said. "As a general rule, you already know who the best teams are by who they beat and strength of schedule.
"There's no perfect way. But with this, you would never have it happen again that a conference would not have a representative in the playoff."
Big 12 commissioner Bob Bowlsby has been a supporter of the four-team model but sees merit in Patterson's six-team suggestion.
"That is certainly a model that has merit, and it's an interesting academic and intellectual undertaking, even if it doesn't ultimately end up being practically what people want, but it's certainly another model," Bowlsby said. "Having said all that and being open-minded about the consideration, it's also going to have a seventh and eighth team that think they should've been in. It doesn't solve all problems, and no model does. Gary is a very bright, thoughtful guy, and there have been a lot of models thrown around that aren't even worth talking about, but that one is worth talking about."
Had Patterson's format been in effect this season, he said he would have been OK with Baylor going as the Big 12 representative, as long as it was determined before the season that head-to-head results would break the tie. Baylor and TCU finished in a tie, each with 8-1 Big 12 records. But the Bears beat the Horned Frogs 61-58.
"Had we set the rule that the head-to-head winner went, I would have been happy with that because that's what we decided," Patterson said.
When the committee's final rankings were released this year and TCU dropped from No. 3 to No. 6 and out of the playoff, Patterson was upset, naturally. But he stayed above the fray publicly and didn't point fingers and didn't blame the system. Instead, he channeled all his energy into getting his team ready for the Chick-fil-A Peach Bowl, and the Horned Frogs blasted Ole Miss 42-3 to finish 12-1.
Before the season, Patterson said he was on record as saying the Big 12 might not have enough of a voice on the selection committee. So he was heartened to see Texas Tech athletic director Kirby Hocutt added to the committee earlier this week.
"I told them last spring at our meetings that I was worried about the support of the Big 12 and not having more people from our part of the country on the committee," Patterson said. "It's good to have a voice. I'm not saying we didn't before [with West Virginia's Oliver Luck], but I've always been one of those who believed you needed to do something a couple of years to find out if you needed to fix your model.
"You don't know if it's an anomaly the way it worked out this year — because we came very close to having two teams in. You've got to see how this works for a couple of years, and then if not, we'll have to change."
Heather Dinich contributed to this report.