KNOXVILLE, Tenn. — Bruce Pearl knew his return would be emotional, and he knew it wouldn't be a reunion in the purest sense of the word.
After all, he had a basketball game to coach at a place that once adored him, a place that never wanted to see him go and yet a place that sent him packing unceremoniously nearly four years ago after he admitted to lying to NCAA investigators.
When it was over Saturday, after a 71-63 Tennessee win over his scrappy but limited Auburn team in front of the largest crowd of the season at Thompson-Boling Arena, Pearl's eyes moistened on a couple different occasions. He wasn't alone. His oldest son, Steven, an assistant strength coach for the Tigers, was equally teary, and a few fans who waited around for Pearl after the game to get pictures were also wiping their eyes.
But it was the emotional embrace Pearl and Steven shared just outside the Auburn locker room after the game that was most revealing.
"We put ourselves in that position [to get fired], but the families went through a lot," Pearl said. "So I could feel in [Steven's] embrace all that we went through. God is good, and I'm grateful for the blessings, and I'm not complaining one bit. But we shared that difficult time — loving Tennessee and trying to represent her as best as we possibly could and then the pain of when it was taken away from us."

[+] Enlarge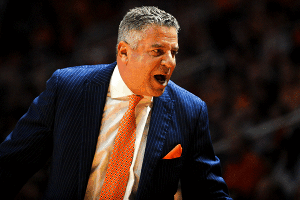 Randy Sartin/USA TODAY SportsBruce Pearl was still a crowd favorite in his first game back at Tennessee since he was fired by the school in 2011.
Steven, his eyes still red some 15 minutes after the game, added: "He's an emotional dude. He starts crying about flowers. I thought we all held it together pretty well until the end."
It was that kind of day on Rocky Top, one that perhaps could bring closure once and for all to the rise and fall of Pearl at Tennessee, a story that reads a lot like a Greek tragedy.
The cheers were louder when Tennessee coach Donnie Tyndall was introduced, but chants of "Bruuuuce" could be heard clearly Pearl was introduced before the game and as the final seconds of Auburn's fourth straight loss ticked down, marking the longest losing streak of Pearl's head-coaching career.
"I think this might bring closure to everything. I hope it does," said Steven, who played for his father at Tennessee. "We had to move on. It was hard, but we had no choice. What I hope happens now is that the powers here stick behind Donnie [Tyndall] better than they did us. He deserves it. He's a good coach and a good man.
"He's going to get the job done here if they'll stick behind him."
The cruel irony of it all is Tyndall is the one now who's potentially under the NCAA's gun for alleged violations that occurred on his watch at Southern Mississippi. The NCAA's notice of allegations has yet to arrive, but there's a definite sense of uneasiness at Tennessee about what could be in that report.
Pearl made one thing clear: He's rooting for Tyndall — just not when the Vols are playing the Tigers.
"Here's the deal: I don't want any other team in the SEC to do well other than Auburn, and then Tennessee," said Pearl, who led the Vols to their only Elite Eight appearance in 2010. "I want Donnie to do well. … We helped create a culture of winning, and some [people] made a lot of the state we left the program in. The worst state we left it in was because they were on probation. That's our fault. But our players, Cameron Tatum, Skylar McBee, Kenny Hall and Jeronne Maymon, when those guys went and played against everybody else in the SEC, do you think those guys expected to win or expected to lose? They expected to win.
"I'm proud of the fact that Tennessee basketball is still good and still relevant."
After the game, Pearl strode across the court to hug former Tennessee football coach Phillip Fulmer, who was sitting courtside in an orange blazer. Pearl also shared a few moments with several of the Vols' high-level boosters, including Larry Pratt, who donated the money to build the Pratt Pavilion practice facility.
Current Tennessee football coach Butch Jones was in the student section — and might have received the loudest ovation of the day when they showed him on the Jumbotron. A few parents of players who played under Pearl at Tennessee were in attendance, including the mothers of Wayne Chism and Scotty Hopson.
Pearl's wife, Brandy, a Tennessee native, sat courtside with several of the Vols' big donors. Pearl's youngest son, Michael, along with his two daughters, Jacqui and Leah, were sitting right behind the bench … standing much of the time.
Pearl's top assistant, Tony Jones, had his entire family there and admitted that it was almost eerie coming into Thompson-Boling Arena from the visitor's entrance. Jones was with Pearl all six of his seasons at Tennessee and, like Pearl, was hit with a show-cause penalty by the NCAA.
Jones spent a few minutes prior to the game gazing up into the rafters at the banners. The Vols have only been to seven Sweet 16s in school history, and Pearl was responsible for three of them.
"It's still hard to believe it ended the way it did," Jones said. "It's not the way we wanted to leave, but we were fortunate to be able to land at a great spot and look forward to doing some of the same things we did on the basketball court at Tennessee at Auburn."
Pearl was touched by the way he was received Saturday by the 18,439 fans in attendance. When he came back out courtside to do his radio show, some of the fans still hanging around to watch Tyndall gave Pearl a standing ovation.
"We lived here for nine years, and that was a really special time in Tennessee basketball history," Pearl said. "The vast majority of what we did was great."