DALLAS — This is what everybody predicted back on Sept. 6 when Ohio State lost at home to Virginia Tech, right? Hardly, but here the Buckeyes are, playing outstanding football and looking for their first national championship in more than a decade. I've come up with 10 reasons they'll win Monday night against Oregon:
1. Strength up front: Just about every national champion over the past several seasons has had a bona fide difference-maker on its defensive line — oftentimes multiple difference-makers. That's no coincidence. You still win up front no matter how many points offenses are scoring these days, and the Buckeyes' front four of ends Joey Bosa and Steve Miller and tackles Michael Bennett and Adolphus Washington will be Oregon's worst nightmare. They've combined for 50 tackles for loss this season.
[+] Enlarge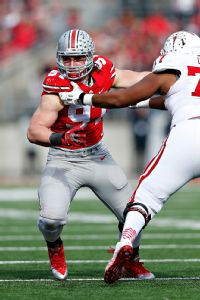 Joe Robbins/Getty ImagesJoey Bosa and the Ohio State defensive line could cause plenty of trouble for Oregon on Monday.
2. Shootout-ready: Oregon has won nine straight games and scored more than 40 points in all nine of those games. The Ducks are right at home in a 50-something-to-40-something game. The only problem is that Ohio State can score points with the best of them. So if this game turns into a back-and-forth track meet, the Buckeyes have been there and done that. In their 12-game winning streak, they've scored more than 40 points 10 times and more than 50 points six times.
3. Playing for keeps: Ohio State's defense vs. Oregon's offense will undoubtedly be one of the matchups to watch in this game, especially given how the Ducks wear teams down with their blistering pace. The best way to combat that pace is to keep Oregon's offense off the field, and Ohio State has the running game to do that. Sophomore running back Ezekiel Elliott has been red-hot with 450 rushing yards in his past two games, averaging 11.3 yards per rush, and quarterback Cardale Jones also moves the chains with his ability to extend the play and convert on third down.
4. Picking Mariota's pocket: Oregon quarterback Marcus Mariota has thrown just three interceptions in 408 passing attempts, which is an amazing statistic. But the Buckeyes have been hard on opposing quarterbacks this season with 24 interceptions, ranking them fourth nationally. Safety Vonn Bell has six, including a fourth-quarter pick against Alabama that was huge, and cornerback Doran Grant has five. With Ohio State's fierce pass rush, the Buckeyes should have some chances against Mariota, particularly with one of his top receivers, Darren Carrington, ineligible for this game.
5. Devin Smith: Quarterback Cardale Jones and Elliott have been two of the main cogs in Ohio State's offensive machine the past two games, but the guy the Ducks should be most concerned about is senior receiver Devin Smith. Oregon is without All-America cornerback Ifo Ekpre-Olomu, and Smith is a big play waiting to happen. He leads all players from Power 5 conferences in receptions (16) and touchdowns (10) on passes of 20 yards or longer downfield. He also has 11 40-yard receptions this season. In other words, look for him to spend a little time behind the Oregon secondary.
6. Getting the tough yards: At some point in a game of this magnitude, you must be able to make third-and-short and run the ball in the red zone. The Buckeyes average 163.9 rushing yards per game between the tackles, which is second among Power 5 teams. They are the only team in the past two seasons to run for more than 200 yards between the tackles against Alabama. Elliott is a big part of that, as is an offensive line that continuously improves. It's also nice to have a 6-foot-5, 250-pound quarterback who can bull his way to the tough yards.
7. Offensive line continuity: Oregon has had to shuffle offensive line combinations most of this season, using have used nine offensive linemen as starters this season, but they've been able to settle on a unit down the stretch this season. Ohio State, meanwhile, has been a model of continuity on the offensive line, starting the same five offensive linemen through all 14 games this season. That should come in handy if this title game gets tight or if the Buckeyes need a late drive to win.
[+] Enlarge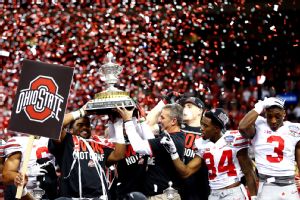 Streeter Lecka/Getty ImagesUrban Meyer has been on the big stage before and knows how to win.
8. Buckeyes' mojo: There's just something about this Ohio State team. Call it mojo. Call it momentum. Call it playing for one another. Call it whatever you like. But this team has navigated its way through tragedy, key personnel losses and an embarrassing home loss in September, and has only gotten stronger along the way. Why would anything change Monday night?
9. Something to prove: The best news for Ohio State fans is that the Buckeyes are the underdog in this game. They've played with a chip on their shoulder ever since most of us counted them out after the Virginia Tech loss. But more than that, coach Urban Meyer has been at his best at Ohio State when his team was an underdog in a big game. The Buckeyes were underdogs against Michigan State, Wisconsin and Alabama this season and won all three games. They were also underdogs at Michigan State and Wisconsin during the 2012 season and won both games. On Monday, they go Duck hunting … once again as the underdog.
10. Urban Meyer: Last but not least (or maybe I've saved the best for last), Meyer is worth his weight in gold on these big stages. That's not to take anything away from Oregon coach Mark Helfrich and the job he's done this season, but there's a reason Meyer is 2-0 in BCS National Championship Games and 4-1 in BCS bowl games. His teams play big in big games, and as good as he is at getting his teams ready physically, he's even better at the mental part of the game. As the stakes have gotten higher, Meyer has gotten this Ohio State team to play with even more confidence, more savvy and more of an edge. The Buckeyes will be at their best Monday.