As we count down to perhaps the biggest football game in Oregon history, it turns out that all-encompassing shadow everybody was talking about two years ago on the West Coast hasn't been as overwhelming as initially thought.
You know, the one Mark Helfrich stepped into after his boss, Chip Kelly, took his warp-speed Maserati of an offense to the NFL.
The Ducks didn't scour the country looking for Kelly's replacement. They instead promoted then-offensive coordinator Helfrich, whose low-key personality, razor-sharp football acumen and keen feel for the program have brought the Ducks within one game of the school's first national championship.
His secret?
One, be himself and don't try to be Kelly.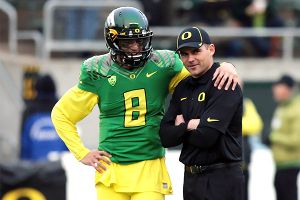 Scott Olmos/USA TODAY SportsMark Helfrich has developed a strong relationship with his players, especially Heisman Trophy winner Marcus Mariota.
And two, make sure the Ducks play "fast, free and confident."
OK, maybe it's a little more detailed than that, but the 41-year-old native Oregonian has been the perfect guy at the perfect time to take the team once known more for its snazzy uniforms from a national stage to the sport's grandest stage.
"The ascension probably started a little bit with the helmets and the uniforms and all that kind of stuff, but hopefully, we've moved beyond that," Helfrich said. "We talk constantly about the guys in the uniforms. The uniforms don't give you points. If they do, we'd love that.
"But being around here on a daily basis, it's all about the people."
Most notably, the players, who swear by Helfrich and the way he runs the program with a personal touch.
"Coach Helfrich is really just somebody that you love to play for," Heisman Trophy-winning quarterback Marcus Mariota said. "He develops that relationship with you from the moment you get here. Doesn't matter if you're the starting offensive lineman or the scout-team guy, he'll develop that relationship with you. When you feel that compassion, that makes you want to play that much harder for the guy. He motivates us in different ways but at the same time he really just always tells us to trust the process and enjoy the moments. For us, that's awesome to play for him, and we're grateful to have him as our head coach."
The fact that this is Helfrich's second season shouldn't be lost on anybody. And if history is any clue, Oregon is in for a festive evening Monday against Ohio State in the College Football Playoff National Championship presented by AT&T.
A long list of head coaches have had breakthrough second seasons at their schools over the past decade or so, and a handful have won a national championship in their second year on the job. One of them will be on the opposite sideline Monday night in Arlington, Texas.
Urban Meyer won his first of two national championships at Florida in 2006 in his second season in Gainesville. It was the Gators' first national title in 10 years.
More recently, Gene Chizik brought Auburn its first national title in 53 years in 2010, when the Tigers defeated the Ducks 22-19 in Glendale, Arizona. Like Meyer, Chizik was in his second year on the job, but whereas Meyer won another national title two years later at Florida, Chizik was fired two years removed from leading the Tigers to the top of the college football world.
Two other head coaches winning BCS national championships in their second seasons were Oklahoma's Bob Stoops in 2000 and Ohio State's Jim Tressel in 2002. It was the Buckeyes' first national title since Woody Hayes led them to one 34 years earlier in 1968.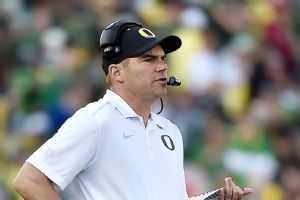 Louis Lopez/CSM/AP ImagesOregon coach Mark Helfrich hopes to join the likes of Urban Meyer and Bob Stoops as coaches who won a national title in their second year on the job.
Nick Saban at LSU and Mark Richt at Georgia also made big splashes in year No. 2. Saban led the Tigers to their first SEC championship in 13 years in 2001 and also won the Sugar Bowl. The very next season, Richt led the Bulldogs to their first SEC title in 20 years and capped things with a Sugar Bowl victory.
If you're looking for a scenario closer to Helfrich taking over for Kelly at Oregon, how about David Shaw at Stanford?
In his second season as head coach after Jim Harbaugh left for the NFL, Shaw guided the Cardinal to a Pac-12 championship and their first Rose Bowl victory in 40 years.
Helfrich is now on the clock to work his sophomore magic and, in some ways, already has.
The Ducks solved their Stanford problem this season after consecutive defeats to the Cardinal (and being held to 20 or fewer points in both losses) by winning a 45-16 rout back in November and putting to rest any concerns about not being physical enough to withstand the Cardinal's onslaught.
More importantly, Helfrich managed this team perfectly and pressed all the right buttons, including tweaking the practice schedule to ensure that it was a fresh and healthy team down the stretch.
A year ago, in Helfrich's first season, Oregon never really recovered from its loss to Stanford. The Ducks came back two weeks later when Mariota wasn't completely healthy and were pummeled 42-16 by Arizona and just barely escaped the next week with a 36-35 win over Oregon State.
Compare that response to the one this season after Oregon lost at home to Arizona back on Oct. 2. The Ducks have won nine straight since that loss, scoring more than 40 points in all nine. It wasn't all offense, either. They've held opponents to 20 or fewer points in five of their past six games.
"Our whole deal is we want to be better," said Helfrich, explaining the difference in Year 1 versus Year 2 in his customary low-key manner. "We want to be better in every single thing we do, and that certainly starts with me. But that's nutrition. That's medicine. It's how we practice. It's everything we try to evaluate on a daily basis and then on a year-to-year basis.
"Some of that is schematic changes. Some are personnel changes. Hopefully, we're all better the second go-round."
It wouldn't be the first time.