A week into the 2014 season, one that would prove memorable on a multitude of fronts, Alabama coach Nick Saban mused that college football had changed more in these past couple of years than he could ever remember since he started coaching.
It was his way of saying the offensive revolution had taken hold of the sport like never before, which was only magnified by 55 FBS teams averaging more than 30 points per game, and hurry-up, spread offenses spitting out the kind of numbers that would make even the most rabid Xbox gamers blush.
Look around. It's an offensive world right now in college football. Even Saban's Crimson Tide spread it out some this season under first-year offensive coordinator Lane Kiffin and dared to join the "fastball" ranks, as Saban was fond of calling the hurry-up offenses in the past.
[+] Enlarge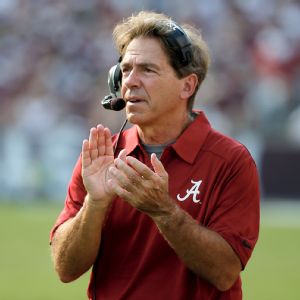 Scott Halleran/Getty ImagesAlabama coach Nick Saban notes that it's still important to be able to stop people at key times, despite the emergence of high-scoring offenses across college football.
The four teams in the first-ever College Football Playoff all average more than 34 points per game. Oregon has won eight straight games and scored more than 40 points in all eight contests. Ohio State exploded for 59 points in its 59-0 destruction of Wisconsin in the Big Ten championship game, and like Oregon, is in the top five nationally in scoring offense. Both are averaging more than 45 points per game.
Most of the biggest names in this first College Football Playoff are all on the offensive side of the ball, including the past two Heisman Trophy winners — Oregon quarterback Marcus Mariota and Florida State quarterback Jameis Winston. Alabama receiver Amari Cooper, a Heisman finalist this season, might be the most dynamic playmaker of the group, and Ohio State's offensive machine didn't skip a beat despite what was essentially the Buckeyes' third-team quarterback, Cardale Jones, stepping in after J.T. Barrett was lost for the season going into the Big Ten championship game.
It all makes you wonder: Does defense really win championships anymore?
"The game's changed, and it's going to continue to change," Saban said. "But what hasn't changed is the importance of being able to stop people, especially in those key moments of the game."
Similarly, Oregon coach Mark Helfrich was singing the praises of his defense, and not so much his offense, after the Ducks raced past Arizona 51-13 in the Pac-12 championship game to lock up their berth in the College Football Playoff.
"The defense at Oregon never gets enough credit," Helfrich said.
That is, until you need it.
Helfrich is still pretty new to this head coaching gig, but he's been around long enough to know that the common denominator throughout the BCS era was defense. In fact, nine of the past 10 national champions finished in the top 10 nationally in total defense, and all but two of the national champions in the BCS era (going back to the 1998 season) have finished in the top 10 nationally in scoring defense.
Only once during the BCS era did a team that went on to win the national championship give up an average of 20 or more points per game (Auburn in 2010), and 12 of the 16 BCS national champions held their opponents to an average of fewer than 16 points per game.
Let that sink in, for a moment, because none of the four teams in this first playoff are ranked in the top 10 nationally in total defense, and three of the four are allowing more than 21 points per game. The only one that isn't is Alabama, and the Crimson Tide are giving up 16.6 points per game.
Rewind to Alabama's three national championship teams under Saban, and the most the Crimson Tide allowed was an average of 11.7 points in 2009.
Four of the past five national champions have finished either first or second nationally in scoring defense. Again, the exception to the rule was Auburn in 2010 when the Tigers were 53rd nationally, allowing an average of 24.1 points per game.
[+] Enlarge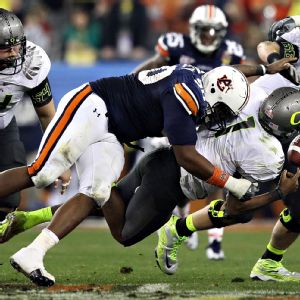 Christian Petersen/Getty ImagesNick Fairley and the Auburn defense played a key role when the Tigers beat Oregon for the BCS title.
That was an Auburn team that was super-explosive offensively and led by a quarterback, Cam Newton, who put together one of the best individual seasons in college football history.
As fate would have it, the BCS championship game that season — the one that was supposed to be a shootout with Oregon — turned into a low-scoring defensive scrum. And afterward, then-Oregon coach Chip Kelly lamented that the difference in the game was the Ducks' inability to block Auburn defensive tackle Nick Fairley, who had three tackles for loss and forced a fumble.
So, even then, with two fast-paced offensive powerhouses trading blows, the biggest difference-maker on the field was a defensive tackle.
Some things don't change.
Ted Roof was the Auburn defensive coordinator in 2010, and as he rightfully points out, it's misleading to merely look at the Tigers' overall defensive numbers. They ranked 60th in total defense and allowed an average of 368.4 yards per game. But when it counted most, they might as well have been ranked first nationally.
"No matter how much the game changes, the most important stat will always be winning and losing," said Roof, now the defensive coordinator at Georgia Tech. "The thing I'll always remember most about that defense is they played their best when we needed it most."
In Auburn's last 10 quarters that season, including the second half of the improbable 24-point comeback at Alabama, the Tigers allowed just four touchdowns. But, then, all season long, they were at their best in the fourth quarter, allowing just 56 points in the fourth quarter and overtime of 14 games.
"The thing about playing defense now is that you have to be able to adjust week to week," Roof said. "I couldn't even tell you what normal is right now in college football. Normal is different. With everything offenses are doing now, sometimes it might take you a quarter or part of the game to get used to it, which explains some of the big numbers we're seeing."
Roof, who also had a head coaching stint at Duke, offers a keen perspective in that he's been a defensive coordinator in three distinctly different offensive systems over the past six seasons. Auburn operated out of the spread and utilized the hurry-up under then-offensive coordinator Gus Malzahn. Roof then went to Penn State under Bill O'Brien for the 2012 season, and the Nittany Lions were a pro-style offense. He's been at Georgia Tech the past two seasons, and the Yellow Jackets run the option.
"The bottom line is that whatever your head coach is committed to, that everybody is on board with it," Roof said. "With everything you see out there now offensively, and so many people running the quarterback, there's no question that it's tough to keep up defensively.
"But you've still got to be able to get off the field on third down. You've still got to make them kick field goals in the red zone, and you've still got to be able to take the ball away. That's always going to separate good teams and great teams no matter what teams are doing on offense."
Along those lines, 10 of the 16 BCS national champions forced at least 30 turnovers, and nobody in the BCS era won a national championship with a defense allowing more than 400 yards per game.
Oregon is looking to buck that trend.
[+] Enlarge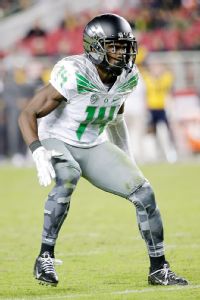 AP Photo/Marcio Jose SanchezOregon will be without one of its key defenders, injured corner Ifo Ekpre-Olomu.
The Ducks rank 82nd nationally in total defense and are allowing 413.8 yards per game. Kentucky, South Florida, UAB and Vanderbilt all rank ahead of Oregon in total defense, and the Ducks will also be without one of their top defenders in the playoff. Senior cornerback Ifo Ekpre-Olomu, a first-team All-American, injured his knee in practice earlier this month and is out.
But it's also an Oregon defense that appears to be playing its best at just the right time. The Ducks allowed 19 or fewer points in four of their past five games and gave up their share of "garbage" yardage in the second half of games this season when the game had long since been decided.
On paper anyway, Alabama would seem to have the strongest defense of the four playoff teams, but the Crimson Tide have had moments this season when they didn't look like their old selves on that side of the ball.
Then again, maybe it's just another sign that the game is indeed changing.
Alabama outlasted Auburn 55-44 in the Iron Bowl, and in doing so, gave up 630 total yards, the most an Alabama defense has ever allowed. The Tide have been vulnerable at cornerback the past two seasons, which has a way of exposing any defense.
But even in that shootout win over Auburn, Alabama limited the Tigers to just two touchdowns in eight red zone possessions, which included three straight possessions inside the 10-yard line that didn't yield an Auburn touchdown.
The pressing question surrounding Ohio State all season has been whether the Buckeyes are good enough defensively to win a championship. Heading into their shutout of Wisconsin, they'd given up an average of 29 points in their previous four games.
But in their biggest game of the season — and against Heisman runner-up Melvin Gordon — the Buckeyes were at their best defensively. And much like Fairley was a game-changer in 2010, Ohio State has a trio of future pros in its defensive line in end Joey Bosa and tackles Michael Bennett and Adolphus Washington.
Even though Florida State's overall defensive numbers aren't eye-popping, one of the reasons the Seminoles have been able to win so many close games this season is because they have been lights-out defensively in the fourth quarter.
After giving up 26 points in the fourth quarters of their first two games, the Seminoles have allowed a total of 37 points in the fourth quarter and overtime the last 11. That includes just four touchdowns. No wonder they've won seven games by six points or fewer this season.
Any way you cut it, this New Year's Day will be lathered in history, as four teams come together for the first time to decide college football's national championship on the field.
It's a novel concept, almost as novel as defense being the lifeblood of any championship season.