Dan Le Batard w' Stugotz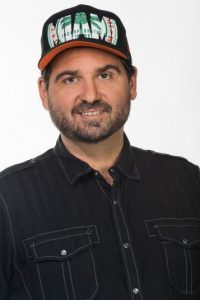 Leading sports columnist Dan Le Batard is the host of ESPN Radio's The Dan Le Batard Show, weekdays from 11 a.m. – 1 p.m. ET (simulcast on ESPNU and tape-delayed on FUSION) and ESPN2's Highly Questionable on weekday afternoons at 4:30 p.m. Both shows are produced out of ESPN's studios in Miami Beach's Clevelander Hotel.
The Dan Le Batard Show made its national ESPN Radio debut on September 30, 2015. Alongside co-host Jon "Stugotz" Weiner, the duo brings their unique blend of self-deprecating humor, insightful guests, and thoughtful conversation to a national audience every weekday. Rotating guest co-hosts, including Bomani Jones and Miami Herald writer Greg Cote, often join to provide listeners with a slightly different experience every day.
On Highly Questionable, Le Batard is joined by his father Gonzalo Le Batard ("Papi") and co-host Bomani Jones, in which the trio offers viewers an innovative and comedic approach to sports commentary and offers a critical–and sometimes hilarious–perspective on the world of professional sports. He also is a frequent guest host on PTI.
Le Batard joined ESPN The Magazine's staff as a contributor in February 1998. In addition to his position at The Magazine, he hosted its weekly Sunday morning show on the ESPN Radio Network. He also served as a reporter for ESPN's College GameDay, Sunday Night Conversation and Outside the Lines series.
Le Batard continues as a columnist at the Miami Herald, where he has been since 1990. An accomplished writer, he has won an Associated Press Sports Editor (APSE) award every year since 1994. Le Batard also has written for numerous national publications, including Maxim and Cosmopolitan.
A 1990 graduate of the University of Miami, Le Batard received a bachelor of arts degree in journalism and politics. He resides in Miami.
---