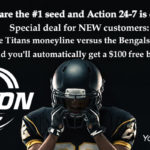 NEW CUSTOMERS / ALL WEEK:
The Titans are the A-F-C's number one seed, and our friends at Action twenty-four-seven are celebrating with a special deal for new customers. Bet $22 on the Titans moneyline versus the Bengals this weekend, and you'll automatically get a $100 free bet! Action twenty-four-seven is the sportsbook by Tennesseans for Tennesseans. Download the app or visit Action247.com to get started
Are you tired of waiting on your sportsbook? Waiting for deposits and withdrawals? No more waiting with Action-twenty-four-seven! They are cutting out the middle man with more than 100 partner locations across Tennessee for CASH deposits and CASH withdrawals. Visit Action247.com for more details.