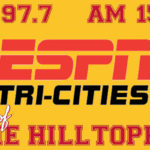 Science Hill Hilltopper Sports
The Voice of the Toppers at Facebook.
Tune-in to Science Hill Hilltopper Sports on FM 97.7 / AM 1590 to hear all the lastest Hilltopper action with Kyle Cooper – We are the exclusive VOICE OF THE HILLTOPPERS. Plus, find us on your mobile device via the TuneIn app….CLICK  HERE for our TuneIn audio stream.
PRESS HERE TO LISTEN TO OUR SCIENCE HILL HILLTOPPER – JOHNSON CITY SHOUTCAST AUDIO STREAM.